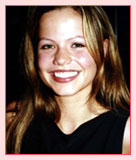 GF: What is the best thing about being a part of the Home and Away cast?
TS: Working with an amazing bunch of people- both cast and crew. All these creative people in the one room with so much energy- it is a pretty amazing work place.
GF: What is the best thing about being a girl?
TS: I love being a girl for the fact that I can buy so many different types of clothes, and make-up, all the girly things we do. Catching up with friends and doing girly chats.
GF: What is your daily beauty routine?
TS: I cleanse, tone and moisturise. I don't really have a routine as such but always make sure that my skin is clean.
GF: How does your work impact on your beauty routine?
TS: It is incorporated into work as you have to come to work with clean skin and hair, so it actually makes you do the right thing, plus after you finish you have the facilities and products to take all the make-up off. You actually look after your skin more because of the work we do.
GF: What impact has winning the Logie for Most Popular New Talent had on your work and life?
TS: It has made me want to be more organised and diligent. It was an amazing honour and it just makes me want to work harder at acting and become better each day and learn.
GF: As an actress and very experienced at having been made up, what is the most important beauty tip you could give [ a teenage girl ]?
TS: Good diet of healthy foods and getting outdoors and walking and exercising and drinking lots of water.
GF: What can we expect of your Home and Away character this/ next season?
TS: Dani goes through a bit of turmoil when she finds out that Will is the father of Gypsy's baby. So tune in because it is going to be rocky. They are determined to still make it work as they love each other, but this is huge for them to handle and viewers will have to tune in to see whether they will.
GF: What do you do for fun?
TS: Hang out with friends and go to the movies and go shopping.
GF: What is the most vital ' can't get through the day without ' beauty product?
TS: I can't get by without my lip gloss because you work indoors in an air-conditioned environment, so I would also say a face moisturiser. I don't wear a lot of make-up so that would be it1!
GF: What do you like about the Rimmel foundation products?
TS: I like the fact that they are light and not to heavy on the skin. Because I don't wear a lot of make-up I don't like heavy products.
GF: How do you rate them and would you use them again?
TS: I would probably use them again and would rate them as 8 out of 10. And they are probably good value for the price you pay.